15 Pancake GIFs To Get You Salivating For Pancake Day
Pancake Day is finally upon us! As we all casually ignore the fact that we could eat pancakes on any other day of the year, why not take a look at these pancake GIFs to get you salivating for your dinner later.
Whether you're one of those pancake in denial people who try to lie to themselves while eating savoury pancakes or a pancake hero who knows no sweet topping is out of bounds, everyone can enjoy these pancake GIFs for their total pointlessness.
Matilda Pancake Scene
Every '90s child knows the joy watching Matilda making pancakes brought them as a child. It was particularly special as a Brit to see these new, foreign pancakes and wonder what it must be like to eat them.
Pancake Flipping
Flipping our skinny British pancakes is difficult enough so I think we can all appreciate this weighty pancake flip.
Salem Eating Pancakes on Sabrina
Any GIF with Salem the cat makes our day, especially when he's eating a buttery, all-American pancake stack.
Bear Face Pancakes
Need some pancake day inspiration? How about making cute faces and shapes? Actually, you know what? That requires a lot more effort, therefore taking longer to get in your mouth. Eff that.
J.D. Pancake Face
Don't be sad, it's pancake day! At least when we require a sad pancake GIF, Scrubs will always be there to help.
Banana Pancakes
If someone put this GIF on my face, I would literally eat my face. Jack Johnson sang about banana pancakes and he definitely knew what he was talking about.
Pancake Eating Cat
This cat knows what it's all about, forget about catnip, we want pancakes.
Pancake Food Porn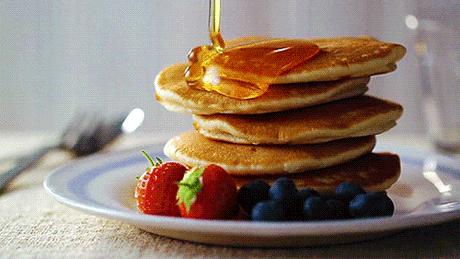 How can a GIF have the power to make you this hungry? With an hour and a half until hometime i.e. pancake making time, we're literally chewing at our sleeves in pancake anticipation.
Thor Pancakes
Mmmm Thor eating pancakes, mmm a stack of pancakes... mmm a stack of pancake eating Thors'... mmm syrup on Thor's rippling muscles...
More Pancake Porn
OH.MY.GOD. I swear I can actually smell these.
Joey Making Pancakes
Sadly this first GIF was actually a Friends blooper and it didn't make it into the show. Luckily it exists in GIF form which means we can enjoy it on repeat.
If Joey flipping a pancake at Chandler's head isn't enough for you, let's enjoy this catch a pancake GIF.
Schmoke and a Pancake
Possible the most quoted pancake related movie quote, Goldmember's 'Schmoke and a pancake' line from Austin Powers is perhaps our most diverse pancake GIF.
Jesse Pinkman Eating Pancakes
Breaking Bad's Jesse Pinkman ate pancakes once... REMEMBER?
Dog Pancake Flip
This dog tossing a pancake is pancake flipping perfection. I won't be going to bed tonight until I have perfected this very trick.
posted in
pancake day
pancake GIFs
pancake scenes
pancake movie scenes
pancake film scenes
best pancake GIFs
best pancake scenes
Online Video Company
More Online Video Company Blogs