The Best 17 Movie Mum's/Mom's/Mother's
We hope you enjoyed Mother's Day yesterday, whether you were treated to a three course carvery (me) or you spoilt your mum with flowers and the like, it was a day to be thankful of our mum's.
As is customary, it got us thinking about the best movie mum's. Now, not all of these movie mum's are necessarily that great, there's certainly room for parental improvement for a fair few but they all made an impression on us, one way or another.
Mrs Gump - Forrest Gump
Mrs Gump may have employed questionable techniques in order to have Forrest treated like everybody else but she did everything with the best of intentions.
Mrs George - Mean Girls
WHAT an attentive Mother, providing snacks, protection and she does happy hour from 4 til 6. Mean Girls' Mrs George is a self-professed 'cool mom' and by cool, she means incredibly cringey.
Euphegenia Doubtfire - Mrs Doubtfire
Alright, technically not a mum, technically not even a woman but everyone knows Mrs Doubtfire is the epitome of good maternal parenting.
Leigh Anne Tuohy - The Blind Side
Leigh Anne offa The Blind Side is most definitely one of the strongest and fiercely protective mother figures we've seen in the movies. Adopting an impoverished Michael and nurturing him until he reaches a professional level of American football is the mark of a damn good woman.
(In our humble opinion.)
Helen Parr - The Incredibles
Helen Parr, formerly known as Elastigirl, is so kick ass, she's an actual life super hero (or at least in actual Pixar life.) Not only does she juggle a family of budding super heroes she also manages to save Mr Incredible's life.
The Bride - Kill Bill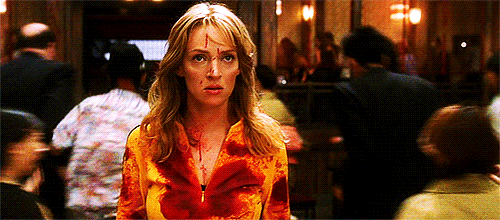 Not your classic image of a motherly figure but Uma Thurman, in Kill Bill, performs this whole massive blood bath precisely because her daughter was taken from her. Who doesn't want a ninja mum?
Peg Boggs - Edward Scissorhands
Peg Boggs is one of the sweetest, most accepting lady to have ever graced the silver screen. She is so kind and welcoming to Edward Scissorhands, the perfect mother figure.
Mrs Jumbo - Dumbo
Oh good Lord, I don't think I was ready to think about Dumbo today. Surely the most heartbreaking mother/baby separation story there ever was? Mrs Jumbo's love for Dumbo was so clear, the moment they are parted still breaks our hearts every time.
Bren MacGuff - Juno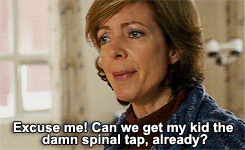 A modern day mother if ever there was one, Bren MacGuff not once gets angry for her irresponsible step-daughter getting up the duff. Hilarious and caring alike, Bren MacGuff is a super cool mum.
Christine Collins - Changeling
Changeling is a terrifying watch for any parent and Angelina Jolie's depiction of Christine Collins is harrowing. Having your child go missing and then being replaced with a different child, who everybody assures you is your own is just inconcievable but Christine never stops fighting to find her son.
Aibileen Clark - The Help
Not technically the mother of little Mae Mobley but certainly her most obvious mother figure, it is Aibileen who Mae cries for when she leaves.
Jackie Harrison - Stepmom
Preparing your children for your own death is one of the most heartbreaking concepts and, like in Terms of Endearment, that is exactly what Susan Sarandon's character in Stepmom has to do. Not only that, she is forced to realise that her children will grow up with a step mother instead.
Isabel Kelly - Stepmom
While Susan Sarandon's character is facing leaving her children, Julia Roberts' is trying desperately hard to be accepted as the stepmom. A very sad and difficult story indeed.
Mrs Weasley - Harry Potter
Mrs Weasley is surely everyone's favourite movie mum. She's loving and giving, despite not having much herself and she's fiercely protective of all her ginger offspring.
Karen - Love Actually
Emma Thomson's character, Karen, is almost a tragic hero in Love Actually. She's such a strong mother figure and takes her maternal role so seriously, that even in the depths of heartbreak she keeps it together so her kids won't know anything about stupid Alan Rickman's affair with stupid Mia.
Fiona Brewer - About a Boy
A sad example of a mother suffering from depression, Toni Colette's portrayal of embarassing, hippie mum Fiona, in About a Boy, is both hilarious and touching. 'He's got a special soul and I've wounded it' is a favourite line from Fiona.
Bridget's Mum - Bridget Jones's Diary
Not all mother's are tactful and comforting, some of them are just like Bridget's mum in Bridget Jones's Diary but would we have her any other way...?
posted in
Best movie mums
Best movie moms
Best movie mother's
Most memorable movie mums
Best film mums
Bridget Jones's Diary
About a Boy
GIFs
Love Actually
Harry Potter
Stepmom
The Help
Changeling
Juno
Dumbo
Edward Scissorhands
Kill Bill
The Incredibles
The Blind Side
Mrs Doubtfire
Mean Girls
Forrest Gump
Online Video Company
More Online Video Company Blogs